SPAR announced as an Official Partner of Glasgow 2018 European Championships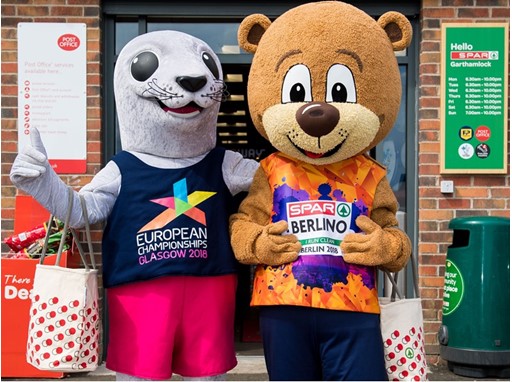 SPAR International has been announced as an Official Partner of the Glasgow 2018 European Championships from 2-12 August.
SPAR, already the principal sponsor for the European Athletics Championships being staged by Glasgow's co-host Berlin, becomes the exclusive cross-Championships sponsor. As a principal sponsor in both locations, SPAR builds on the promotion of health and wellness throughout activations supporting the Championships.
The much-loved mascots of both Glasgow 2018 and Berlin 2018 - Bonnie the Seal and Berlino the Bear - joined forces today to celebrate SPAR supporting the Championships in both cities.
They popped into their local SPAR in the East End of Glasgow. The cheeky duo first met in Berlin last month when Bonnie had a tour of the city. This is their first time together in Glasgow and they made the most of their shopping trip, going wild in the aisles and picking up some tasty, fresh produce.
Glasgow and Scotland will deliver a new force in world sport and proudly welcome Europe through the inaugural European Championships. The multi-sport event will see Glasgow and Scotland host 12 sports – Diving, Open Water Swimming, Swimming, Synchronised Swimming, Road Cycling, Track Cycling, BMX, Mountain Biking, Golf Team Championships, Gymnastics, Rowing and Triathlon – across 12 venues in partnership with the city of Berlin which will host the Athletics.
With 52 nations taking part, Glasgow 2018 will be a must watch, must attend summer of sport and culture that elevates the status of European Champions.
Scottish Government Sports Minster Joe Fitzpatrick said:
"It is great to see another well-known brand being confirmed as an official partner for the inaugural European Championships.
"Glasgow 2018 promises to deliver exciting sporting action which will showcase our world-class Scottish venues, offering us a fantastic opportunity to encourage people to live healthy and active lifestyles."
Glasgow City Council Depute Leader, Councillor David McDonald added:
"I'm delighted to see a big European brand with a long-standing commitment to sport backing the first ever European Championships.
"Over eleven days, Glasgow 2018 will highlight our city's top class sport and culture, featuring amazing athletes and artists in fantastic venues."
Tobias Wasmuht, SPAR International Managing Director said: "SPAR is proud to be the principal sponsor of European Athletics which is watched by millions of people all over the world every year. SPAR has supported European Athletics for over twenty years and in that time, our partnership has gone from strength to strength. This year, we also supported the U18 European Athletics Championships, highlighting our focus on youth sport.
"SPAR is committed to being a responsible retailer and encouraging our customers to make healthy lifestyle choices. In addition to our sponsorship, at the European Athletics Championships in Berlin we will be offering spectator information on exercise and healthy eating. We are delighted to sponsor the joint European Championships in Glasgow and Berlin and wish all the competitors well."
SPAR International is the world's largest food retail voluntary chain with over 12,700 stores worldwide and global retail sales of €34.5 billion in 2017. The United Kingdom (UK) became a member of SPAR in 1956 when a group of independent wholesalers obtained the SPAR licence from SPAR International. For more information on SPAR, go to
www.spar.co.uk
SPAR joins Strathmore, Atos, Gleneagles, Harper Macleod LLP, Avid, NVT, Aggreko, Glasgow Airport, GL events, Field and Lawn Ltd., Arco,
Adi.tv
, Xerox and CSM Live as part of the Glasgow 2018 sponsor family.
NOTES TO EDITORS
1. The 2018 European Championships will be staged by the European Federations and the Host Cities of Glasgow and Berlin. Further information is available at
https://www.europeanchampionships.com
.
2. The Glasgow 2018 event will be held between 2nd and 12th August and the European Athletics Championships will be between 7th and 12th August in Berlin. Further information is available at
www.glasgow2018.com
3. The European Broadcasting Union (EBU), the umbrella body for Europe free-to-air channels, will be the broadcast partner for the Championships, with a potential television audience of up to 1.03 billion.
4. More than 3,000 athletes will travel to Scotland as part of a total delegation of around 8,500 including officials, media and others. A further 1,500 athletes will compete in Berlin.
5. Glasgow will host six sports – Aquatics, Cycling, Golf, Gymnastics, Rowing and Triathlon – at 12 venues across Scotland, while Berlin will host Athletics at Berlin's Olympic Stadium, with the road races and race walking events held throughout the city.
6. Festival 2018 is the world-class arts and culture programme that will complement the 11 days of sporting events in Glasgow and Scotland with a host of free activities for the whole family to enjoy. Further information is available at
www.glasgow2018.com/festival
8. Glasgow 2018 will celebrate the Scottish Government's Year of Young People (YOYP) 2018 - inspiring Scotland through its young people aged 8 to 2 by celebrating their achievements, valuing their contributions to communities and creating new opportunities for them to shine locally, nationally and globally:
yoyp2018.scot
CONTACTS
James Mulligan

Head of Communications and PR

Switzerland

james.mulligan@europeanchampionships.com

+41 (0) 796944829