Gymnastics Ambassador, Max Whitlock to headline at Glasgow 2018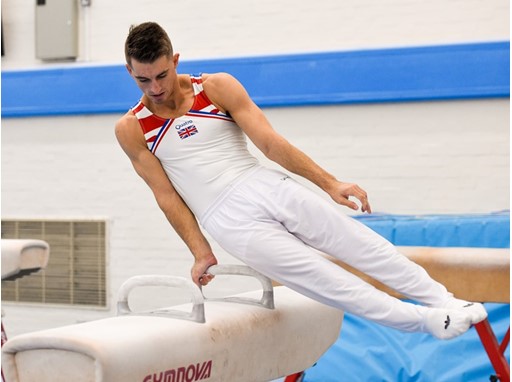 Glasgow 2018 Gymnastics Ambassador, Max Whitlock MBE, has been confirmed today in the 20-strong British team for the Glasgow 2018 European Championships, which features a host of the sport's top names at senior and junior level.
In the senior men's team, double Olympic champion Max Whitlock returns to The SSE Hydro Arena, where he won his first World title, alongside fellow Commonwealth gold medallists James Hall, Dom Cunningham and Courtney Tulloch with 2017 British champion Joe Fraser making a welcome return from injury to complete the line-up.
Two-time European bars champion Becky Downie, Commonwealth champions Alice Kinsella and Georgia-Mae Fenton, British champion Kelly Simm and Commonwealth silver medallist Lucy Stanhope compete in the women's senior team.
There will also be a chance for Great Britain's rising stars to show their potential with the best junior gymnasts also in competition alongside their senior teammates. The women's team will be Ondine Achampong, Halle Hilton, Pheobe Jakubczyk, Amelie Morgan and Annie Young. The men's team is Adam Tobin, Jake Jarman, Jamie Lewis, Donell Osbourne and Pavel Karnejenko, who started his gymnastics career in Scotland with City of Glasgow Gymnastics Club six years ago and was a pupil at the Glasgow School of Sport.
The team made up of five senior men, five junior men, five senior women and five junior women will join around 600 of Europe's top gymnasts, who will descend on Glasgow in just four weeks-time when the world-class artistic gymnastics competition gets underway at The SSE Hydro on 2 August for eight action-packed days.
Max Whitlock is looking forward to returning to the City where he enjoyed great success at both the 2014 Commonwealth Games and in the 2015 World Gymnastics Championships, winning gold on pommel and silver on both the floor and in the men's team event. It was in Glasgow that the men's team qualified for the 2016 Olympic Games in Rio, where Max went on to become a double Olympic gold medallist on pommel and floor and bronze in the all-around to add to his two bronze from London 2012, becoming the most successful British male artistic gymnast in history and he continues to raise the bar year on year.
Speaking from his training base in Basildon today where he is preparing for the event, Max Whitlock MBE said: "I am absolutely delighted to have been selected as part of the British Gymnastics team for the Glasgow 2018 European Championships, particularly as I am an Ambassador for the event. We have a really strong men's team and we are all working really hard to be in top shape for the European Championships and I can't wait to be back in Glasgow in just four weeks-time.
"I have such great memories of competing in Glasgow both at the Commonwealth Games in 2014 and again at the 2015 World Gymnastics Championships, which were really successful for me and I would love to be on the podium again at the European Championships this year. The SSE Hydro is a fabulous venue and the support we get from the Scottish fans is always amazing."  
Today's British team selection comes hot on the heels of yesterday's official competition draw conducted in Glasgow by the European Union of Gymnastics (UEG) and which confirmed the groups in which the top European athletes will compete for the qualification round of the competition.
Commenting on yesterday's draw for the team qualification sessions, Max added: "When the draw is announced you know that competition time is really close and having lots of home support will be really important, especially when we are competing alongside the reigning European champions Russia, Switzerland and Ukraine, who also did well in the last European team competition in 2016. I hope everyone has got their tickets to cheer us on!"
The qualification sessions will also crucially decide the individual apparatus finalists and tickets for the individual apparatus finals on Sunday 12
th
August can be found here:
https://www.ticketmaster.co.uk/glasgow-2018-european-mens-snr-glasgow-12-08-2018/event/360052BA381BA485?brand=glasgow2018&camefrom=CFC_UK_glasgow2018_GAR_PR_12
CONTACTS
Scott MacPherson

-

Germany

Scott.MacPherson@glasgow.gov.uk

-