2018 European Championships medals unveiled to mark 50 days to go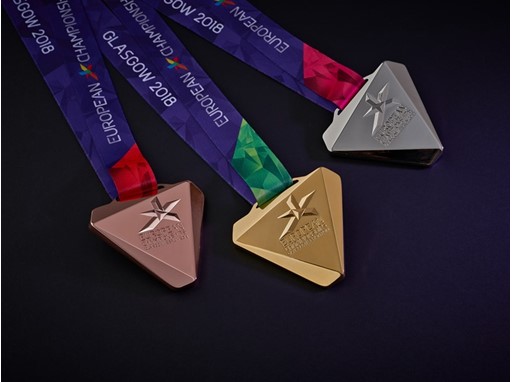 It is the coveted prize every athlete wants to go home with, and to mark 50 Days to go to the 2018 European Championships the medals to be presented to the seven sports in Glasgow and Berlin were revealed to the public for the first time.
The countdown to Europe's biggest multi-sport event of the year is well and truly on and it was Jess Learmonth, freshly announced as the official Glasgow 2018 Triathlon Ambassador, that had the honour of unveiling the specially commissioned Championships medals.
30-year-old Jess is originally from Leeds and is based at the Leeds Triathlon Centre where she trains alongside the Brownlee brothers.
Jess, known for her swimming and cycling power and speed, won her first major international title in June 2017 at the ETU European Championships in Kitzbuhel. She went on to take a silver medal in both the women's individual and mixed team relay events at the Gold Coast 2018 Commonwealth Games. She has also won three medals at ITU World Series events in 2017/2018.
The reigning Triathlon European Champion ran into George Square in Glasgow this afternoon to deliver the medals for their first public appearance. Enthusiastically welcomed by pupils from the Glasgow School of Sport, the medals were presented to three aspiring young athletes who are part of the #6forGlasgow2018 initiative by Sports Minister Aileen Campbell and Councillor David McDonald, Depute Leader, Glasgow City Council.
Jess was joined in George Square for this special event by local hero Marc Austin, who won Team Scotland's first medal of the Games at Gold Coast 2018 in the men's Triathlon, and two-time reigning European 400m champion Martyn Rooney, representing athletics which will be staged in Berlin.
Jess and Marc hope to be two of more than 3,000 athletes who will be competing across six sports in Scotland from 2-12 August 2018, whilst Martyn has his sights set on defending his title as one of 1,500 athletes in action in Berlin. The Berlin 2018 European Athletics Championships will take place from 7-12 August.
At any major championship, the medals awarded are a powerful symbol of the sporting excellence achieved by each athlete. They will be worn with pride, not only when presented on the podium at the Championships but when athletes travel back to their communities across the continent and share their success with other young people, inspiring them to follow in their footsteps.
The unique, beautifully crafted medals have been specially designed by Touch of Ginger, for this inaugural multi-sport event, as the unifying element for the seven individual European Sports Federations and will be a lasting legacy of the event's first edition.
The medal design is bold and dynamic with a contemporary triangular prism form inspired by the European Championships emblem. The front features a stylish 3D interpretation of the Championships brand whilst the rear displays the participating sports federation logo along with event specific data in a clever facetted design. Each medal is hung from a ribbon featuring a striking crystal design that builds to a full spectrum of rainbow colours that capture the spirit of this multi-sport event.
Thrilled to be the first athlete to see the medals, Jess Learmonth said: "The fact that my first major international title was winning the 2017 European Championships makes being an Ambassador for the Glasgow 2018 even more special and I will be going all out to try and retain my title.
"Every athlete wants to win a medal at a major championship, so to be here today to unveil the medals for Glasgow 2018 is really exciting and to be the very first athlete to set eyes on them is really special.
"I love the medal design, I think it looks amazing. It is very contemporary and reflects the unique Championship 'crystal' logo really well. I particularly like the fact that it is the same medal design for all seven sports, but then personalised to each with the sports own logo on the back. It is a great way to unify all the athletes across Europe, striving to achieve the same level of sporting excellence."
Martyn Rooney said, "I'm looking forward to running in the Berlin Olympic Stadium again. It holds some great memories for me as it is where I helped Great Britain to 4x400m silver medals at the 2009 World Championships. No one has won the European 400m title three times, so to win and achieve that would be amazing. But with so many talented 400m runners across Europe at the moment it will be a tough challenge."
There will be a total of 188 medals events held across the 11 days of competition in Scotland and Berlin (50 Athletics, 72 Aquatics, 30 Cycling, 3 Golf, 12 Gymnastics, 18 Rowing, 3 Triathlon).
Sports Minister Aileen Campbell said: "With 50 days to go until Glasgow 2018, the countdown is truly on to Scotland's next multi-sport event and anticipation is building further with the unveiling of the medals today.  It will be wonderful to see some of Europe's best competing in Scotland to claim their place on the podium."
"We are on track for a fantastic summer of sport and it is great to welcome Jess Learmonth to our family of Ambassadors and hear the excitement from the athletes."
 "The European Championships provide a fantastic opportunity for Scotland to build on our reputation for hosting major sporting events, ensuring a memorable experience for athletes, officials and fans alike."
Depute leader of Glasgow City Council, Cllr David McDonald said: "With just 50 days to go, athletes all over Europe now have their sights firmly set on these medals and sporting success in Glasgow.
"For winners, they will be the ultimate reward for years of hard work, sacrifice and a single-minded dedication to their sport."
"They will also be a lasting symbol of the Championships that will be seen around the world and help to inspire young athletes to follow in the footsteps of their heroes."
Frank Kowalski, CEO for Berlin 2018, commented: "This is a fantastic and memorable medal design which will truly honour the champions and other medallists at the European Athletics Championships. For those athletes that are presented with these medals it will be a striking lifelong reminder of what they achieved in Berlin and what these inaugural European Championships represent."
The Cambridge-based design agency Touch of Ginger specialises in the design and manufacture of medals, trophies, branded merchandise and unique souvenirs for global sporting events, The business has established a reputation within the sport industry being involved in major events such as the London 2012 Olympics, Rugby World Cup 2015, European Aquatics Championships, Rio 2016 Olympics, Glasgow 2014 and Gold Coast 2018 Commonwealth Games.
There is still time for the public to book their seats to enjoy this truly world-class festival of European sport and to see the medals presented to the winning athletes.
Ticket prices start from £15 for adults and £7.50 for under 16s and over 60s Book now:
www.glasgow2018.com/tickets
or through the Glasgow 2018 ticket hotline 0844 453 2018.
About 200,000 tickets for the Berlin 2018 European Athletics Championships have already been sold but seats and packages are still available. For more information, visit
www.berlin2018.info/tickets
.
Ends
NOTES TO EDITORS
GLASGOW-BERLIN 2018 BACKGROUND INFORMATION:
1. The 2018 European Championships will be staged by the European Federations and the Host Cities of Glasgow and Berlin.
2.
The Glasgow 2018 event will be held between 2nd and 12th August and the European Athletics Championships will be between 7th and 12th August in Berlin. Further information is available at
www.glasgow2018.com
,
www.berlin2018.info
and www.europeanchampionships.com.
3. The European Broadcasting Union (EBU), the umbrella body for Europe free-to-air channels, will be the broadcast partner for the Championships. There is a potential television audience of around 1.03 billion for the event with many more viewers across multiple digital platforms.
4. Around 3,000 athletes will travel to Scotland as part of a total delegation of around 8,500 including officials, media and others. A further 1,500 athletes will compete in Berlin.
5. Berlin's Olympic Stadium will be the venue for the European Athletics Championships with the road races and race walking events held throughout the city.
6. The European Aquatics Championships will take place at Glasgow's Tollcross International Swimming Centre, with Diving taking place at Edinburgh's Royal Commonwealth Pool, Open Water Swimming being staged at Loch Lomond and Synchronised Swimming at Scotstoun Sports Campus.
7. Four European Cycling Championships will be staged in Glasgow and its metropolitan area. Track, Road, Mountain Bike and BMX will attract 650 of Europe's top names to the Sir Chris Hoy Velodrome, the Cathkin Braes Mountain Bike Trails, the streets of Glasgow and the metropolitan area and a new world championship and Olympic standard BMX track to be built in the Knightswood area of the city.
8. The European Golf Team Championships will take place at the Gleneagles PGA Centenary Course in Perth & Kinross. There will be three European Team Golf Championships: Men's Team Championship, Women's Team Championship and Mixed Team Championship.
9. The European Artistic Gymnastics Men's and Women's Championships will be staged at The SSE Hydro, the venue for the 2015 FIG World Gymnastics Championships.
10. The European Championships for both Rowing and Triathlon will both be staged at Strathclyde Country Park in North Lanarkshire.
11.
The Year of Young People 2018 will be the next of the Scottish Government's series of themed years, following the Year of History, Heritage and Archaeology 2017. The Year of Young People (YOYP) will inspire Scotland through its young people aged 8 to 26, celebrating their achievements, valuing their contributions to communities and creating new opportunities for them to shine locally, nationally and globally. Further information on what's happening and how people can get involved can be found on the new website
yoyp2018.scot
or @YOYP2018 on Twitter.
CONTACTS
James Mulligan

Head of Communications and PR

Switzerland

james.mulligan@europeanchampionships.com

+41 (0) 796944829