Cycling orchestra trumpets one month to go until European Championships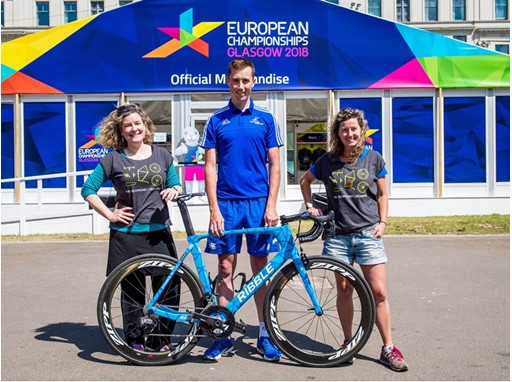 The Velophonic Orchestra rings a bell with a preview performance in George Square – using their bikes as instruments!
Today, Monday 2 July, marks just one month to go until the first ever European Championships kicks off in Glasgow. To celebrate this milestone moment, cycling development charity Free Wheel North led riders on a cycle from the North of Glasgow to meet the musicians behind the Velophonic Orchestra. They were also joined in George Square by Team Scotland Commonwealth Games silver medallist in cycling, John Archibald.

Merging the worlds of art and sport, the orchestra is known for replacing traditional instruments with bike parts – making music from bells and saddles to frames and spokes. Upon arrival at George Square the group parked up and treated passers-by to an exclusive performance - playing their bikes as instruments.
Their performance celebrated each of the four cycling disciplines being showcased at the Glasgow 2018 European Championships – Track Cycling, Road Race, BMX and Mountain Biking. Cycling history will be made when the four disciplines take place in the same city simultaneously for the first time ever.
The Track Cycling competition will be at the Sir Chris Hoy Velodrome between 7 – 12 August with nine medal sessions ensuring all-round entertainment.
For adrenaline lovers, BMX racing will be held at the new permanent Olympic standard BMX track in Knightswood Park between 10 and 11 August, while the best mountain bikers in Europe will compete at the iconic Cathkin Braes Mountain Bike Trails on 7 August - as the highest point in Glasgow, it promises to be an amazing spot to watch this high speed competition.
Spectators can also watch Europe's elite road cyclists weave their way through the streets of Glasgow, East Dunbartonshire and Stirling on 5, 8 and 12 August.
The Glasgow 2018 European Championships is the moment our people will proudly welcome Europe. With 52 nations taking part in 12 sports, Glasgow 2018 will be a must watch, must attend summer of sport and culture with athletes, our fantastic home crowd and our many visitors creating magical moments which will showcase what we have to offer across Europe.
The Velophonic Orchestra will perform as part of the closing night for Festival 2018 – the cultural programme running alongside the Glasgow 2018 European Championships. Packed full of fun for the whole family to enjoy, there will be something for everyone.
The Velophonic Orchestra will close the Glasgow Green events on Sunday 12 August. The free, un-ticketed event will encourage participants to identify the sonic possibilities of the most unlikely of instruments - their bicycles.
Curator of The Velophonic Orchestra, Jane Bentley, said:

"We're so excited to help kick off the 'one month to go' celebrations for the European Championships, and help bring the worlds of sport and art together.
"We're really looking forward to being part of Festival 2018 and closing the Glasgow Green events on Sunday 12 August! It's always so much fun to hear the different compositions that evolve from the sessions and we hope to see lots of families down on the Green taking part, don't forget it's BYOB too – Bring Your Own Bike!"
Team Scotland Commonwealth Games Silver Medallist in Cycling, John Archibald, said:
"It will be amazing to experience cycling history as part of the Glasgow 2018 European Championships, when all four cycling disciplines will compete in the same city simultaneously for the first time ever. That will be a huge moment – not only for the sport and this inaugural event but also for Glasgow and Scotland."
"It's great to celebrate 'one month to go' until Glasgow 2018 – the moment is getting nearer! The buzz in Glasgow during the 2014 Commonwealth Games was outstanding and Glasgow 2018 looks set to be just as amazing. I can't wait!"
Culture Secretary Fiona Hyslop said:
"There is something on offer for everyone at Glasgow 2018, with elite sporting action and a unique cultural programme, and we want to see as many people as possible get out to enjoy the events whether that's in George Square, Go Live at the Green or the sports venues.
"With just a month to go until the Championships it is exciting to hear more about innovative performances that will be taking place across eleven action packed days this August."
Glasgow City Council's Depute Leader, Cllr David McDonald said:
"If you enjoy bike racing, there is absolutely nowhere better to be at the start of August than Glasgow.
"This is the only city anywhere on the planet capable of hosting all four Olympic cycling disciplines and, with BMX, Mountain Biking, Road and Track events all in the schedule, you simply can't see this kind of action anywhere else.
"And, as the Velophonic Orchestra have shown, bikes will even play a part in our festival of cultural events. With just a month to go, it is great to see anticipation for the Championships building."
CONTACTS
James Mulligan

Head of Communications and PR

Switzerland

james.mulligan@europeanchampionships.com

+41 (0) 796944829