European Athletics Championships volunteer clothing unveiled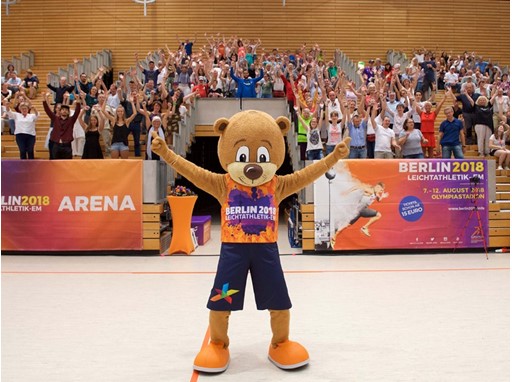 Volunteers are at the heart of each major sports event and the Berlin 2018  European Athletics Championships will be no different with more than 3000 volunteers involved both in the Berlin Olympic Stadium and on the streets of the German capital.
Around 750 volunteers came together on Monday (28) at the Horst-Korber-Sportzentrum in Berlin to get to know each other and familiarise themselves with their roles as well as get in the mood for the Championships, part of the inaugural European Championships with six other sports being contested in co-hosts Glasgow.
The volunteer clothing was displayed for the first time with a fashion provided by Berlin 2018 mascot and international celebrity Berlino.
Aleksander Dzembritzki, State Secretary for the Interior and Sports, and Norbert Brenner, CEO of Berlin 2018, were on hand and highlighted the importance of volunteer work and expressed their gratitude for the volunteers' commitment.
Also present were recently retired German stars Betty Heidler and Sebastian Bayer who enthralled the audience with some tales of their own experiences during their careers.
Heidler, the 2010 Euroepan hammer champion and a silver medallist two years ago in Amsterdam in addition to her many global exploits, will actually be a volunteer herself in Berlin while Europena indoor long jump record holder Bayer will be supporting the LOC and technical officials with advice and assistance concerning laser measurement. 

Rio 2016 Olympic Games javelin champion Thomas Röhler and 2017 European U23 1500m medallist Marc Reuther surprised the volunteers with video messages.
Musical entertainment was provided by the marching band BÄM! And singer-guitarist Lizzy and the Palm while local radio presenter Anni Dunkelmann guided everyone through the programme of the day.
The breakdancers of Face of Berlin and the comedian Henning Wechsler added to the  entertainment.
More information on the 2018 European Championships:       
- The Berlin 2018 European Athletics Championships will be part of the first multi-sport European Championships along with co-hosts Glasgow.          
- It will be a must-watch, must-attend experience that elevates the status of European Champions, uniting existing European Championships to celebrate the highest honour in European sport and celebrating the defining moments that create Champions.      
- It is the continent's ultimate multi-sport event, an 11-day celebration of European sport staged every four years.     
- Seven of Europe's leading sports (athletics, aquatics, rowing, golf, cycling, gymnastics, triathlon) will be brought together for the first edition.     
- The European Athletics Championships in Berlin will be staged 7-12 August. The six other sports will be staged in Glasgow through 2-12 August.    
- 4500 athletes and 52 nations will compete across the seven sports.        
- Potential TV audience of over one billion with millions more across multiple digital platforms.     
- Over half a million spectators expected.
CONTACTS
James Mulligan

Head of Communications and PR

Switzerland

james.mulligan@europeanchampionships.com

+41 (0) 796944829