Glasgow 2018 Cycling Road Race and Time Trial routes revealed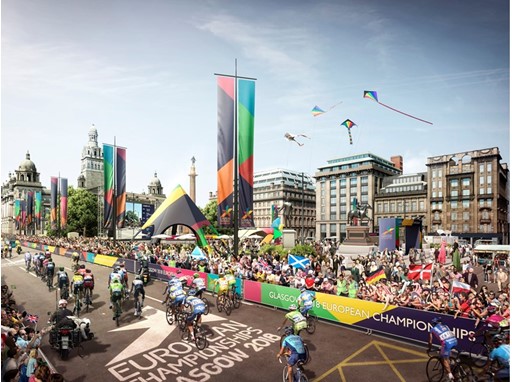 Europe's best will race through roaring crowds in Glasgow, East Dunbartonshire and Stirling

Glasgow 2018 has today (Tuesday 6 February) announced the routes for the 2018 European Cycling Road Championships, which will see Europe's elite road cyclists race through the streets of Glasgow, East Dunbartonshire and Stirling this August.

The European Cycling Road Championships, which features men and women's elite road and time trial events, will see more than 300 of Europe's best cyclists compete in Scotland, giving sports fans a historic opportunity to see the best riders on the continent race past their doorsteps this summer - for free.
An exciting time trial route will see cyclists set off from Glasgow's iconic Riverside Museum before heading up through north Glasgow, East Dunbartonshire and – in the men's race – Stirling, before an exciting finishing straight on Glasgow Green in front of roaring city crowds.
Men's and women's road race routes will see athletes complete a series of laps through the heart of Glasgow and past some of the city's most famous landmarks. Residents, businesses and communities with these historic road events on their doorsteps will have a number of ways to get information they need in order to be aware of the temporary local arrangements through the staging of these prestigious events, including information drop-in sessions and through
www.getreadyglasgow.com
.
Glasgow 2018 is working in partnership with all three local authorities to minimise disruption so residents and local communities can enjoy the celebrations and excitement.
Since the introduction of elite riders in 2016, previous European Cycling Road Championships winners include three-time world champion Peter Sagan, who took men's road race gold in 2016 and last year's women's road race winner Marianne Vos, a former Olympic road champion.

Union Européenne de Cyclisme (UEC) president Rocco Cattaneo said:

"It will be the first time the UEC European Cycling Road Championships elite races have taken place in the United Kingdom and we're delighted to bring this event to Scotland.

"Elite events in Plumelec, France in 2016 and Herning, Denmark in 2017 provided plenty of excitement and some memorable performances from Europe's top male and female riders. I have no doubt that our elite cyclists and Scottish fans can combine to create something even greater at the multi-sport Glasgow 2018 European Championships."

Sports Minister Aileen Campbell said:

"The time trial and road races for Glasgow 2018 will see some of Europe's best cyclists traveling past some of Scotland's most iconic landmarks.  Worldwide TV audiences will be able to enjoy a thrilling competition, not just in Glasgow but also in East Dunbartonshire and Stirling, widening the benefits of the Championships.
"I expect our enthusiasm for cycling, which has been so evident in previous events, will be on show with spectators coming out to line the route and cheer on the competitors."
Councillor David McDonald, Depute Leader of Glasgow City Council, said: 

"The cycling events at the Glasgow 2018 European Championships will be a real highlight of the summer with stars from across the continent competing.  The great road races of France, Spain and Italy all showcase their cities and countryside to massive audiences, and I am sure these events will do the same for Glasgow and our neighbours. Scotland has a great cycling tradition, and I look forward to these races and time trials being hugely popular."

Thomas Glen, Depute Chief Executive for Place, Neighbourhood and Corporate Assets at East Dunbartonshire said: 

"We are delighted to be co-hosting the Glasgow 2018 Time Trial, with the opportunity to showcase the stunning backdrop of East Dunbartonshire and enable supporters to cheer on the elite cyclists challenging to win these events along the route." 

Stirling Council Leader Scott Farmer said:

"We are delighted to help host the Glasgow 2018 Time Trial and it is fantastic that we are able to bring this sporting event right into the heart of our local communities. Alongside events such as the Stirling Marathon, the Time Trial will help make this a truly memorable summer of sporting events for our residents."

The European Cycling Road Championships is one of four cycling disciplines taking place as part of the multi-sport Glasgow 2018 European Championships, alongside the European Championships for Track Cycling, Mountain Biking and BMX.
Other sports taking place across Glasgow and Scotland during the Championships include the existing European Championships for Aquatics, Gymnastics, Rowing and Triathlon along with a brand new European Golf Team Championships at Gleneagles. Athletics will take place in Berlin, completing the 2018 European Championships sport roster.
The Championships will run from 2-12 August 2018 with road race events on Sunday 5 August (Women's Road Race), Wednesday 8 August (Men and Women's Time Trial) and Sunday 12 August (Men's Road Race).
Ends
FOR MORE INFORMATION CONTACT:
NOTES TO EDITORS

GLASGOW 2018 BACKGROUND INFORMATION:
1. The 2018 European Championships will be staged by the European Federations and the Host Cities of Glasgow and Berlin.
2.
The Glasgow 2018 event will be held between 2nd and 12th August and the European Athletics Championships will be between 7th and 12th August in Berlin. Further information is available at
www.glasgow2018.com
.

3. The European Broadcasting Union (EBU), the umbrella body for Europe free-to-air channels, will be the broadcast partner for the Championships. There is a potential television audience of around 1.03 billion for the event with many more viewers across multiple digital platforms.

4. Around 3,000 athletes will travel to Scotland as part of a total delegation of around 8,500 including officials, media and others. A further 1,500 athletes will compete in Berlin.

5. Berlin's Olympic Stadium will be the venue for the European Athletics Championships with the road races and race walking events held throughout the city.

6. The European Aquatics Championships will take place at Glasgow's Tollcross International Swimming Centre, with Diving taking place at Edinburgh's Royal Commonwealth Pool, Open Water Swimming being staged at Loch Lomond and Synchronised Swimming at Scotstoun Sports Campus.

7. Four European Cycling Championships will be staged in Glasgow and its metropolitan area. Track, Road, Mountain Bike and BMX will attract 650 of Europe's top names to the Sir Chris Hoy Velodrome, the Cathkin Braes Mountain Bike Trails, the streets of Glasgow and the metropolitan area and a new world championship and Olympic standard BMX track to be built in the Knightswood area of the city.

8. The European Golf Team Championships will take place at the Gleneagles PGA Centenary Course in Perth & Kinross. There will be three European Team Golf Championships: Men's Team Championship, Women's Team Championship and Mixed Team Championship.

9. The European Artistic Gymnastics Men's and Women's Championships will be staged at The SSE Hydro, the venue for the 2015 FIG World Gymnastics Championships.

10. The European Championships for both Rowing and Triathlon will both be staged at Strathclyde Country Park in North Lanarkshire.
11.
The Year of Young People 2018 will be the next of the Scottish Government's series of themed years, following the Year of History, Heritage and Archaeology 2017. The Year of Young People (YOYP) will inspire Scotland through its young people aged 8 to 26, celebrating their achievements, valuing their contributions to communities and creating new opportunities for them to shine locally, nationally and globally. Further information on what's happening and how people can get involved can be found on the new website
yoyp2018.scot
or @YOYP2018 on Twitter.
CONTACTS
James Mulligan

Head of Communications and PR

Switzerland

james.mulligan@europeanchampionships.com

+41 (0) 796944829