Glasgow And Berlin Come Together To Host 2018 European Championships World Broadcaster Meeting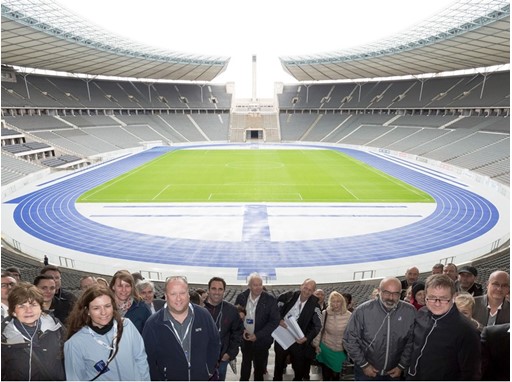 Representatives from some of Europe's leading broadcasters have  met in Glasgow and Berlin for a World Broadcaster Meeting ahead of the 2018 European Championships to learn more about the ongoing preparations for the inaugural multisport event.
The European Championships is a major new multisport event taking place every four years, supported by Europe's free-to-air broadcasters, which aggregates the existing senior continental championships of Athletics (European Athletics), Aquatics (LEN), Cycling (UEC), Gymnastics (UEG), Rowing (FISA), Triathlon (ETU), with a new Golf Team Championships (ET & LET) – all unified under a common brand.
Glasgow and Berlin will host the first ever edition of the Championships in the summer of 2018 and the European Broadcasting Union (EBU) already has agreements with almost 40 broadcasters worldwide to cover the event. There will be up to 300 hours of programming across television, radio and online, free to air in all the main markets, with an anticipated 2,700 hours of television coverage across the Championships.
During seven days packed with site visits, plenary sessions and unilateral meetings participants discussed live production, venue and IBC/BOC facilities as well as individual broadcaster's service requirements. Broadcasters have shown a significant interest in digital services including multi-platform content publication and digital enrichment, allowing them to bring the excitement and emotion of the Championships to all audiences.
And following the meetings – the first time the host cities have come together to host a broadcaster meeting – both Glasgow and Berlin  were praised for their commitment to ensuring that the inaugural event is a success both on the field of play and on television screens and digital channels across Europe.
Achim Hammer, Head of Program for ZDF, and Carsten Flügel, Head of Program for ARD, said, "A very good balance of sessions, workshops and site visits made this World Broadcaster Meeting a very special one. Two host cities, both making their determination for the event absolutely clear, are a challenge for the organisers as well as for us as broadcasters. Thanks to the Local Organising Committees and the Host Broadcaster we are leaving with a feeling of safety in terms of our specific plans and requests."
Ron Chakraborty from BBC Sport said, "The Berlin-Glasgow World Broadcaster Meeting was a very positive event. It was well organised, with informative and detailed presentations and site visits. The Host Broadcaster and Local Organising Committees were joined-up in their approach. They were also clear about their collaboration in order to help make the overall European event a success."
Franck Choquard, Head of Products and Marketing at Eurovision Media Services, said, "Next year will be a great opportunity for us to work together with rights-holding broadcasters, host cities and sports federations to produce outstanding content for this new, exciting event. We look forward to bringing our experience, new technologies and creativity forward to create cutting-edge services, including innovative remote IP solutions, as well as an unforgettable experience for viewers around the world."
BBC and ARD-ZDF have previously outlined their large-scale broadcast plans for the Championships. ARD-ZDF will be broadcasting around 120 hours of live sport throughout each day, while the BBC confirmed it will treat the European Championships like other "big events" such as the Olympic Games, FIFA World Cup and IAAF World Championships.
BACKGROUND INFORMATION:
1.   The 2018 European Championships will be staged by seven European Sports Federations and the Host Cities of Glasgow and Berlin.
2.   The Glasgow 2018 sports programme will start with a day of qualifications on Thursday 02 August and will run until Sunday 12 August, while the Berlin 2018 European Athletics Championships will be held between Tuesday 07 August and Sunday 12 August.
3.   The EBU is the broadcast partner of the Championships and, to date, has signed agreements with almost 40 broadcasters to ensure the event will be viewed by the widest possible audience, free-to-air in all major markets. Its business arm, Eurovision Media Services, will be acting as host broadcaster, through its subsidiary European Production Coordination, and will be responsible for distributing the event to rights-holding media organizations worldwide.
4.   In total, the European Championships will span 10 days of television programming from Friday 03 August to Sunday 12 August 2018. The event has a potential television audience of around 1.03 billion with many more viewers across multiple digital platforms. There will be up to 300 hours of host broadcaster coverage, and an anticipated 2,700 hours of television coverage.
5.   Around 3,000 athletes will travel to Scotland as part of a total delegation of around 8,500 including officials, media and others. A further 1,500 athletes will compete in Berlin. 
6.   Berlin's Olympic Stadium will be the venue for the European Athletics Championships with the road races and race walking events held throughout the city.
7.   The European Aquatics Championships will take place at Glasgow's Tollcross International Swimming Centre, with diving at Edinburgh's Royal Commonwealth Pool, synchronised swimming at the Scotstoun Sports Campus, and open water swimming at Loch Lomond.
8.   Four European Cycling Championships will be staged in Glasgow. Track, Road, Mountain Bike and BMX will attract 650 of Europe's top names to the Sir Chris Hoy Velodrome, the Cathkin Braes Mountain Bike Trails, the streets of Glasgow and the surrounding metropolitan area, and a new world championship and Olympic standard BMX track to be built in the Knightswood area of the city.
9. The European Golf Team Championships will take place at the Gleneagles PGA Centenary Course in Perth and Kinross.
10. The European Artistic Gymnastics Men's and Women's Championships will be staged at The SSE Hydro, the venue for the 2015 FIG World Gymnastics Championships.
11. The European Championships for both Rowing and Triathlon will both be staged at Strathclyde Country Park in North Lanarkshire.
CONTACTS
James Mulligan

Head of Communications and PR

Switzerland

james.mulligan@europeanchampionships.com

+41 (0) 796944829