Strathmore water to make a splash at Glasgow 2018 European Championships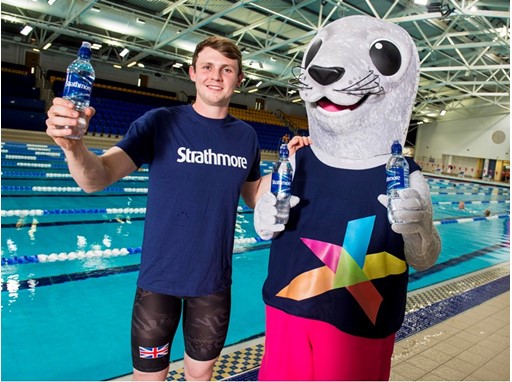 Ross Murdoch and Bonnie the seal pool together to launch partnership
Strathmore water has been named as Official Partner of the Glasgow 2018 European Championships, the new multi-sport event which brings together the existing European Championships of some of the continent's major sports including Aquatics, Cycling, Gymnastics, Rowing and Triathlon, a new Team Golf Championships - with athletics in Berlin.
Much-loved Scottish athlete and Glasgow 2018 sporting ambassador Ross Murdoch joined the Glasgow 2018 mascot Bonnie the seal, to help the drinks company launch the partnership.
Fresh from winning a silver medal at the Gold Coast Commonwealth Games, Ross is thirsty for success at the European Swimming Championships at Tollcross International Swimming Centre this August, while Bonnie will be cheering on competitors from across Europe over the 11 days of sporting action.
Ross, who is an official ambassador for the iconic Scottish drinks brand, said: "It's great to see the European Swimming Championships as part of a new, multi-sport event that is being co-hosted by Berlin and Glasgow. I know how passionate the crowds will be across the six sports being staged in Scotland as part of Glasgow 2018 and I know that the crowds in Berlin will be just the same. It's brilliant that such big names like Strathmore Water are throwing their support behind this inaugural event."
Jonathan Kemp, Commercial Director at A.G.BARR, said: "We're incredibly proud of the work that Strathmore does to encourage more people to take part in sport as part of its Do More campaign, so to be the Official Water of Glasgow 2018 European Championships, a multi-sport event which will engage and inspire so many people, highlights our ongoing investment and commitment to all levels of sport.

"We look forward to working with the team at Glasgow 2018 to help keep our sporting heroes and Championships' volunteers hydrated to ensure they perform to their best ability, whilst being part of what is sure to be a world class sporting event."
Rural Economy Secretary, Fergus Ewing said: "This is great news. It is fantastic that this well-known Scottish brand built on quality is being confirmed as a partner for the European Championships, an event that will once again put Scotland and Glasgow on the international sporting calendar. Strathmore has a strong history of supporting Scotland in events, nationally and internationally, and I hope that continues."
Glasgow City Council Depute leader Cllr David McDonald said: "We're delighted that Strathmore Water has been announced as the first Official Partner in the European Championships family of sponsors. With such a long-standing reputation for supporting world-class sporting events it's great to have such an experienced partner on board. Glasgow 2018 will be a fantastic 11 days of sporting and cultural activity that will further enhance Glasgow's reputation as a world-class destination for international events."
Strathmore water, which is bottled at source in the Vale of Strathmore, will be supplied to hydrate around 3,000 athletes expected to compete in venues across Scotland between 2 and 12 August, as well as officials, staff, volunteers and medical teams on the ground.
The A.G.BARR brand has a long-standing reputation for supporting mass-participation events across the UK, helping world class athletes and spectators stay hydrated.
Strathmore want to be at the forefront of recycling at the Championships, providing the city of Glasgow and the UK with a world class and truly sustainable sporting event, working together with Glasgow 2018 and Glasgow City Council. There will be over 500 recycling bins distributed across venues to encourage the recycling of all Strathmore water bottles consumed at the Championships along with other recyclable waste.
Strathmore water joins Atos, Gleneagles, Harper Macleod LLP, Avid, NVT Group, Aggreko, Glasgow Airport and Arco as part of the Glasgow 2018 sponsor family.
FOR MORE INFORMATION CONTACT:
NOTES TO EDITORS
1. The 2018 European Championships will be staged by the European Federations and the Host Cities of Glasgow and Berlin.
2. The Glasgow 2018 event will be held between 2nd and 12th August and the European Athletics Championships will be between 7th and 12th August in Berlin.
3. The European Broadcasting Union (EBU), the umbrella body for Europe's free-to-air channels, will be the broadcast partner for the Championships. There is a potential television audience of around 1.03 billion for the event with many more viewers across multiple digital platforms.
4. Around 3,000 athletes will travel to Scotland as part of a total delegation of around 8,500 including officials, media and others. A further 1,500 athletes will compete in Berlin.
5. Berlin's Olympic Stadium will be the venue for the European Athletics Championships with the road races and race walking events held throughout the city.
6. The European Aquatics Championships will take place at Glasgow's Tollcross International Swimming Centre, with Diving taking place at Edinburgh's Royal Commonwealth Pool, Open Water Swimming being staged at Loch Lomond and Synchronised Swimming at Scotstoun Sports Campus.
7. Four European Cycling Championships will be staged in Glasgow and its metropolitan area. Track, Road, Mountain Bike and BMX will attract 650 of Europe's top names to the Sir Chris Hoy Velodrome, the Cathkin Braes Mountain Bike Trails, the streets of Glasgow and the metropolitan area and a new world championship and Olympic standard BMX track to be built in the Knightswood area of the city.
8. The European Golf Team Championships will take place at the Gleneagles PGA Centenary Course in Perth & Kinross. There will be three European Team Golf Championships: Men's Team Championship, Women's Team Championship and Mixed Team Championship.
9. The European Artistic Gymnastics Men's and Women's Championships will be staged at The SSE Hydro, the venue for the 2015 FIG World Gymnastics Championships.
10. The European Championships for both Rowing and Triathlon will be staged at Strathclyde Country Park in North Lanarkshire.
11.
The Year of Young People 2018 will be the next of the Scottish Government's series of themed years, following the Year of History, Heritage and Archaeology 2017. The Year of Young People (YOYP) will inspire Scotland through its young people aged 8 to 26, celebrating their achievements, valuing their contributions to communities and creating new opportunities for them to shine locally, nationally and globally. Further information on what's happening and how people can get involved can be found on the new website
yoyp2018.scot
or @YOYP2018 on Twitter.
CONTACTS
Hannah Innes

-

Benin

Hannah.innes@glasgow.gov.uk

-

Carrie Canning

United Kingdom

carrie.canning@glasgow.gov.uk

0041796944144